Product Description
Adjustable thigh cold gel wrap is An effective all-around solution for comfort, circulation, compression, mobility, support and pain relief! Increasing circulation and retaining therapeutic heat, the compression support wrap relieves stiff and sore thigh muscles. Effective for groin, hamstring and quad strains and pulls, the thigh support brace promotes healing, reduces recovery time and is useful in preventing re-injury.
About product:
*Effective Thigh Support: Providing targeted compression therapy, the thigh brace supports the hamstring and quadricep while aiding in the recovery of strains and pulls.
*Versatile Nonslip Fit: Two premium elastic straps with fastening material closures allow the stretchable hamstring support to be adjusted. Fitting the right or left leg, the adjustable thigh support can be worn by men or women.
*Wide Range Of Uses: For activities like sports, exercise, hiking, walking, running, etc. And when it comes to support and recovery, it can help heal stiff muscles, soreness, strains, cramps, post-surgery pain, swelling, tendonitis, sciatica, nerve sensitivity, pulled muscles and more.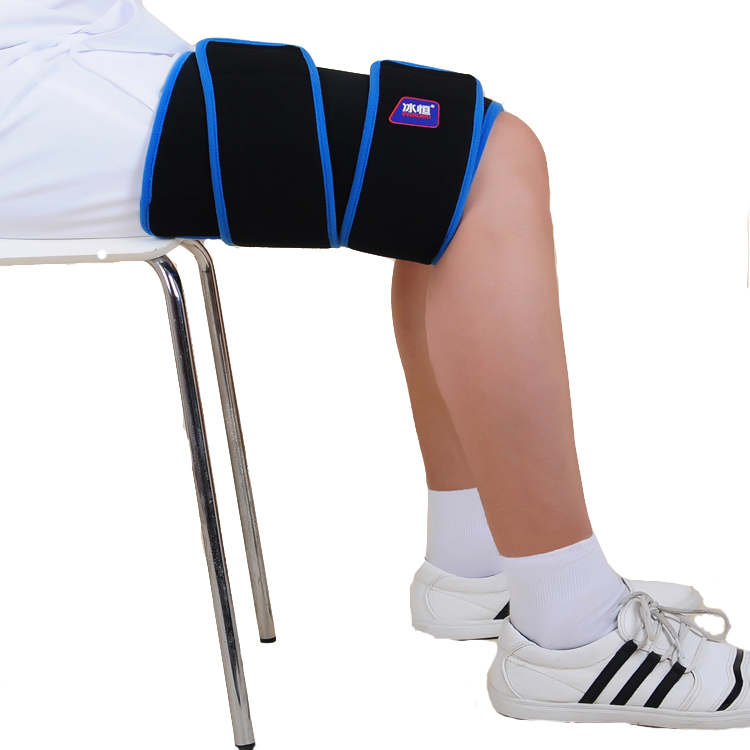 Fixed insulation: It is made of velvet material, which can high-density insulation to reduce the temperature change of the ice
capsule and reduce the release of energy.
Gel pack : The high-efficiency composite inorganic refrigeration material has obvious energy storage effect.
Isolation layer: It can reduce the impact of condensed water on cold therapy, good ventilation and no irritation to the skin.

Packaging & Shipping:
Packaging: 1 piece / paper plastic bag, 15 pieces/carton, carton size: 56.5*30*30cm, can be customized.
Shipping: By sea, by air or express, according to customers' requirements
Lead Time: 2~5 working days for sample, 20~30 working days for bulk order
Usage:
The ice pack is frozen for 30-60 minutes and then applied intermittently in the patient's area, 6-8 times a day, 30-60 minutes each time.
Contraindication
:
It should not be used on persons with cold hypersensitivity, decreased skin sensitivity.