Product Description
Neck stretche Inflatable Cervical Vertebra Tractor is a cervical traction device that can stretch and relax the neck and shoulder muscles while improving your spinal posture. Use the three-channel hand pump to quickly inflate the neck comforter. Partially inflated, the neck comforter functions as a neck support, perfect for resting or travelling. Fully inflated, the neck comforter will support the weight of the head, reducing stress on the neck and shoulder muscles while promoting better posture. At the same time, it will stretch the muscles and decompress the spinal discs of the cervical spine. The neck comforter can be adjusted to your own comfort and does not require battery, chemicals or drugs. It is portable, safe, painless and easy to use.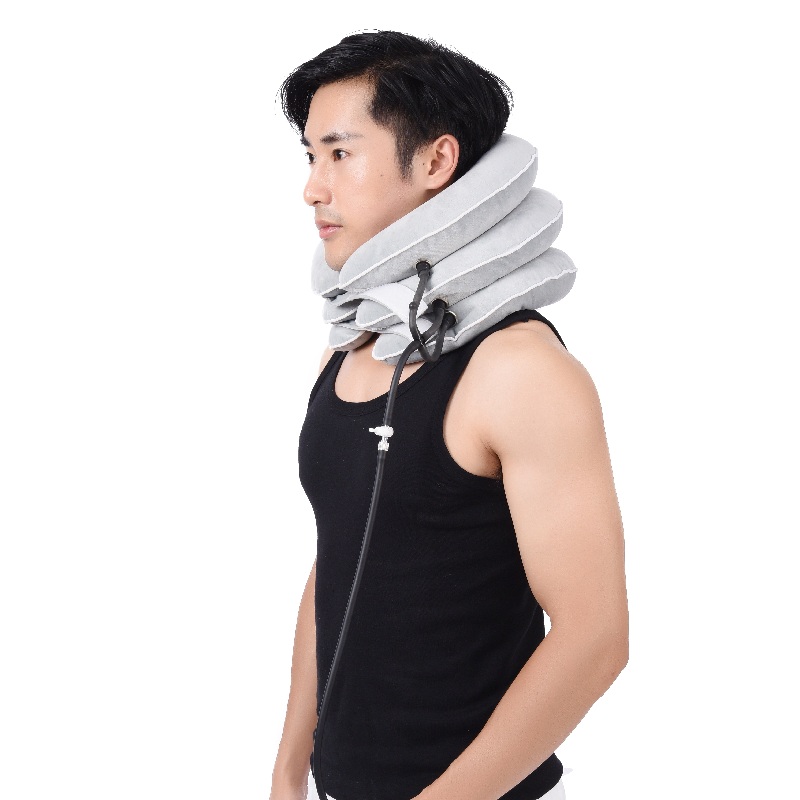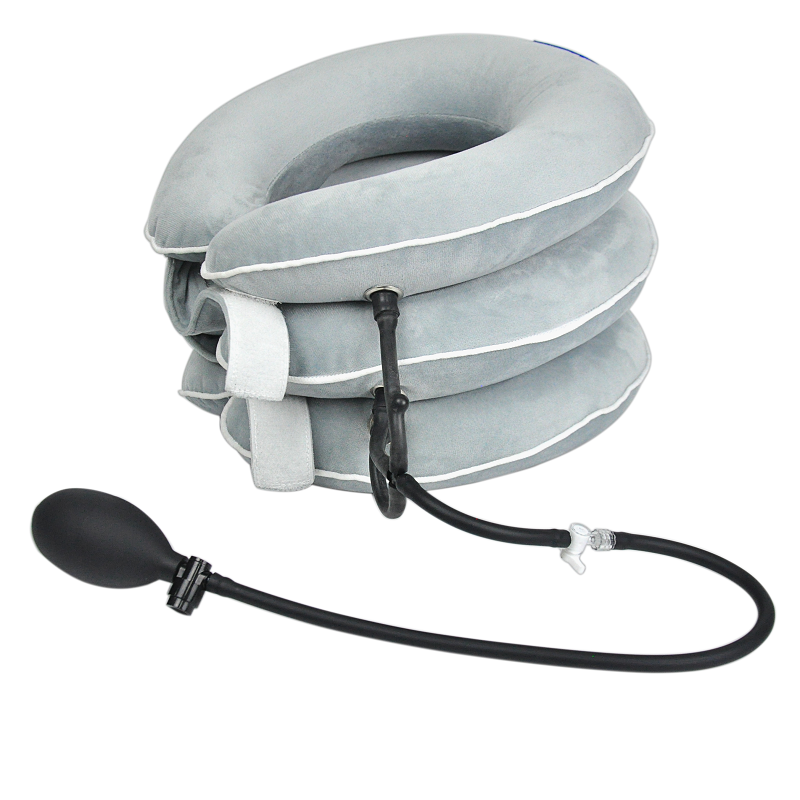 Feature:
1.Three-channel hand pump:three-layer airbag, three-tube design, faster and more convenient.
2.The three-layer airbag is detachable for easy storage and cleaning.
3.High-quality crystal velvet fabric: environmentally friendly, not velvet, such as the comfort of the cloud, giving the skin a different soft touch.
the drop-shaped design is more suitable for the curve of the human neck, the opening is loose, and the throat is not stuck, which is more comfortable.
Instruction:
1.Put the neck traction around the neck, adjust the neck wrap size with the hook and loop according to your condition, and the gas-filling valve is on your left hand.
2.Tighten the air-releasing screw clockwise and open the rolling ball or air stopping valve before pumping.
3.Pump the traction with air ball to the extent when user feel comfortable, then close the rolling ball or air stopping valve.
4.Traction time is usually 15 to 30 minutes, one to two times a day, depending on the patient condition.
5.After the treatment, open the rolling ball or air stopping valve and open air-releasing screw anticlockwise; Should be slowly deflated to avoid neck pain.
6.If use frequently,do not have to run out of all the gas, make the tractor in a natural slack state for the next quick use; When used on travel, please use the carrying case to keep the traction device clean.
Packaging&Shipping
Packaging: 1 piece / box, box size: 28.2*15.8*8cm, 0.42kgs
Shipping: By sea, by air or express, according to customers' requirements
Our main products include: Cold Wrap , Cold Compression Wrap, Cold Therapy System, Far Infrared Electric Heating Pad, Pulse Cold Compression Therapy System, Waterproof Cast And Bandage Protector, disposable Medical Tube Holder, knee support, Cervical Neck Traction Device and so on.