Product Description
Our thigh cold compression wrap is suitable for Leg muscle cramps and aches, postoperative rehabilitation. Active compression helps remove excess fluids to reduce swelling. It also brings nutrient-rich blood to the surgery site to help the healing process go faster. Cold therapy also contributes to less pain and swelling, while keeping healthy tissue alive and preventing secondary tissue growth.
Local pressure cold compress can reduce tissue blood flow, reduce bleeding, slow tissue metabolism, reduce local inflammation, slow down nerve conduction, reduce muscle tension, relieve muscle spasm; increase pain threshold, relieve pain and improve joint mobility To make patients more susceptible to treatment.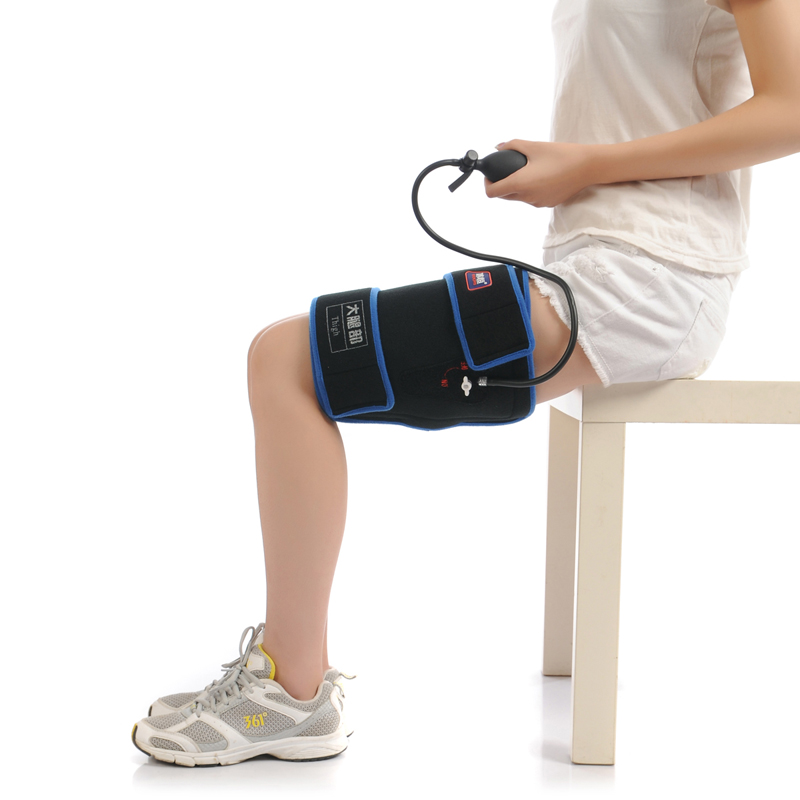 *Technical innovation: Delivers combine both and compression.
*Controlled pressure: Squeeze the air pump to add to the best pressure.
*Easy Operation:Store in the freezer approximately 60-90 minutes, then the wrap can be used.
*Energy storage is obvious: The refrigerating material is composed of a highly efficient composite inorganic salt
accumulator and a water absorbing resin, and the energy storage effect is good.
*
Suitable for the treatment of
:
Orthopaedic perioperative, Osteoarthritis, Acute soft tissue injury,etc.
1.Place the wrap in the freezer approximately 60-90 minutes.
2.Carefully cover the affected area. The EVERCRYO logo must be upright facing out
and secure the strap.
3.Turning a knob from 'off' to 'on' and squeeze the air pump to add pressure you required.
4.Return the wrap to freezer for at least 30 minutes when the wrap warm up and then
reapplying.
5.30 to 60 minutes six to eight times a day is better.
Contraindication:

It should not be used on persons with cold hypersensitivity, decreased skin sensitivity.